Posted:
April 28th, 2013 |
Author:
ath389
|
Filed under:
News
|
Tags:
Ben Browder
,
Dr Who
,
Farscape
,
john crichton
,
SG1
,
Starfest 2013
|
1 Comment »
Special thanks to a long-time Ben fan and Scaper who has written some bits she remembers from Starfest and sent some pictures as well to share with those of us who couldn't be in Denver last weekend!
Note: This write up is by recollection only and is not a, exact quote of anything said by Ben Browder or the audience. I am trying to recall discussion on topics not already circulating the Internet.
Ben opened his panel with a long standing tradition, asking "Can I get a hell yeah? If you're a Farscape fan you'll recognize that phrase immediately. The audience certainly did, with a resounding response to be heard downtown Denver (I exaggerate). Having been to many of Ben's previous panels; at Farscape Conventions, Dragon Con in Atlanta, Comic Con in San Diego, and Chicago Con in Chicago, I was delighted to hear some new antidotes from Ben.
With the warning that he rarely ever answers a question directly, Ben was true to his word.
When asked by an audience member "what was the weirdest encounter you had where someone recognized you on the street?"  Ben related, while in Salt Lake City last month he had entered a German bakery, asking if they served a particular German pastry. The woman behind the counter said, "Of course, you know we do!" Ben replied, "No, how should I know?" "Because, you've been in here before." "No, I haven't". "Yes you have, I recognize you." The woman kept insisting Ben was a regular customer because he looked familiar to him. Little did she know it was probably from his appearances on TV.
Ben lost his "Marshall Issac" mustache last month while filming a family oriented show in Utah. For those of you who've seen Ben in BBC America's Doctor Who Season 7 episode 3, 'A Town Called Mercy' will be familiar with the "Issac" character. If you haven't already seen the episode, check it out on itunes or Amazon Video on Demand. Apparently, Ben carried a gun in this film because he proceeded to go on about how he seems to have a gun in every role. 
Ben's been surfing 3 days a week back home in Southern California. While he does like to ski (not snow board) surfing can't be topped. It's free, whereas Ski lift tickets are upwards of $100 nowadays. Ben recalled, where can you see a whale breach just beyond the foam and when can you ride a wave with a dolphin at your side? You can't do that on the snow!
When asked which character would he have liked to play if he were cast on the Joss Whedon's  TV show 'Firefly' , he let the audience know that Nathon Fillion had auditioned for Farscape but that he, Ben, got the role. Since then, Nathan has won every other audition!  Ben finally got around to stating he would have been happy to play anyone of the characters.
There were many other questions that I can't immediately recall or am deliberately skipping. Ben did end his panel with another loud "Can I get a Hell Yeah?" The audience responded "Hell Yeah!"
Next time I'll take notes!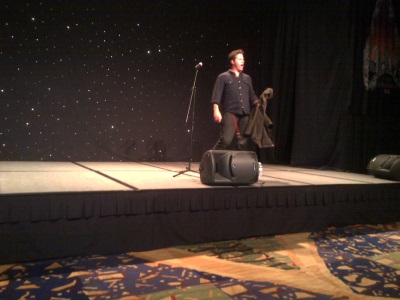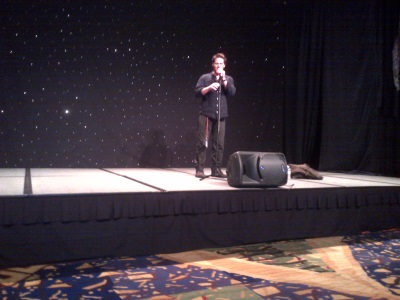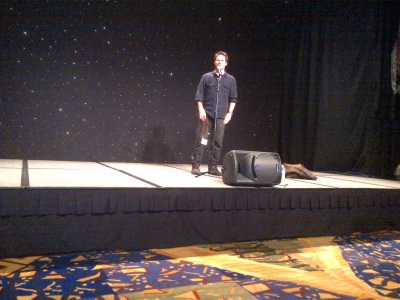 ---