Posted:
August 20th, 2013 |
Author:
ath389
|
Filed under:
News
|
Tags:
Ben Browder
,
Breast cancer research
,
Claudia Black
,
Creation SG Chicago con
,
Dr Who
,
Farscape
,
john crichton
,
SG1
|
3 Comments »
Ooops! I can't believe I forgot this picture from my friend j!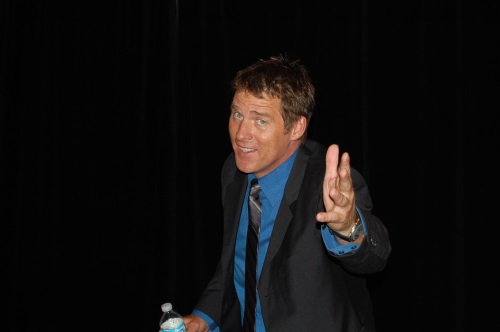 So hard to begin! Ben entered the breakfast seemingly without the Creation people knowing and introduced himself. I have to say he looked the best I have seen him look in years—rested,tan and fit. Plenty of time was allowed at each table. At our table after asking if we went to the karaoke party (none of us had)  one girl brought up Sweet Caroline was her go to karaoke song which led to Ben doing it a la Bob Dylan. Memorable to say the least! He also discussed Fedcon and Barrowman. He said Barrowman was thinking he was going to shock the straight boy 🙂 As a parting shot he said the mustache will hopefully be back as he is hoping a western project comes through. We were all stunned at this unsolicited news. I checked with him later and that is all he can say at this point. 
The room was as full for Ben as any of the SG guests which is good and means the calls for boycotting him at SG cons has lost steam. He mentioned some of the conversations he had had so far that day— death by shark, death by refrigerator …  At Fedcon he got involved with Richard Dean Anderson's Sea Shepard charity so was telling a story about a surfer he was talking to while they were waiting for a wave who was hurt by a whale. He finished with he may not wear his Sea Shepard shirt/hat again! He then gave us his scif "creds" —  the shows he has been involved with, his favorite scifi authors (#1 Neil Stephenson). He then explains that he may or may not answer the questions asked — those of us who have attended other appearances laughed. He got people saying their favorite episode before asking their question which was cool. The questions were primarily Farscape ones if series related. One of the first and my favorite that was asked Saturday was how would he have ended season 5 had there been a season 5.  He said that Farscape won't end until John Crichton is dead. He told of an idea he pitched for a story for SG1 that would have been Sam-centric but Amanda Tapping wasn't able to do it. He was riffing on how SG1 would roll into a town,armed and it was instantly known they were good guys. His episode would have had Bad Ass Sam. A fan favorite question –who is the better kisser Michael Shanks, John Barrowman or Claudia Black. Laughing he replied — I would like to deny that I kissed Shanks. I would like to deny I kissed Barrowman. But I have seen the pictures on the internet so the answer is my wife. The room became quiet when after being asked if he was still writing he explained that he stopped in 2010 when first his agent (??) tried to kill himself, his wife was diagnosed with breast cancer, his father died from cancer and his manager of over 20 years died from cancer. He then sid he is starting to write a bit now. A kid asked something about story ideas—Ben gave several minutes discussing the evolution of a TV script. The kid said he meant when in the SG episode 200 and the characters were pitching ideas. Ben laughed and said "It rocked".  Another kid question which show was more fun to do? He said which looks more fun? Kid responded Farscape. Ben said there is your answer. Some highlights — working with Claudia Black was AMAZING, when he replaced RDA there was a huge party(joke)  followed by I did NOT replace RDA, Russell T. Davies is a Farscape fan, some days at work were so fun he burned the dailies (I am guessing I know what days many of you are thinking 😉 ), Crichton more cerebral and Mitchell more linear but both extremely loyal. His biggest fanboy moment was while in London as a theatre student he was a few seats away from  Dustin Hoffman and tries to speak to him. Hoffman stares then moves to a seat somewhere else! 
I had seen all three members of SG1 many times before. All three (Ben,Amanda Tapping and Chris Judge) always show respect to the fans even if they tease them.  Ben has the challenge of overcoming a fandom that has many who resent him and he continues to charm them, not by sweet talking them but by respecting their loyalty and showing his own to his "favorite" show ,  Farscape.
Several Ben fans are getting involved in the fundraiser by donating signed items for auction. I will be compiling a list with pictures so people can be thinking about what they might need 🙂
---