Posted:
September 12th, 2016 |
Author:
ath389
|
Filed under:
News
|
Tags:
Farscape
,
john crichton
|
1 Comment »
***********UPDATE 2************
I asked Ben if he would share his thoughts about what he remembered and here they are (with permission):
Angie,

My most enduring moments from 911 are ones of compassion and hope. Horrible things happen and we are witness to the great wrongs that people can commit. In the aftermath, there was so much good and caring.

I saw the buildings come down, staring down the avenues of New York.

I watched the people stream North out of the city, rubble and dust covered, their eyes glazed in shock.

I walked through an eery and silent times square the evening of 9/11.

But what sticks in my soul was watching strangers and acquaintances caring for their fellows.

For every terror there is a balm in beauty.

Peace

Ben
***********UPDATE************
Special thanks to Dani from Farscape.world who found the post!!!!!!!!!! I think I knew the coffee from Ben's email to me—-
Ben, Claudia, David, and company safe in NYC
by Mary Wood – Wednesday, September 12th 2001
Category: Old News
Claudia Black just posted to the scifi.com bulletin board:
The purpose of this message is two-fold.
Firstly, thank you for a successful and very enjoyable convention tour.
Secondly we would like to send out our best wishes to everyone in New York. We walked into town and lit a candle on the steps of a closed church last night. What else is there to do but try and give blood and pray for everyone.
We are here in town until the planes start running and are being taken care of by a large and caring group of collegues from the Henson Group. So lucky to have members of our work family with us at this time.
As much as I have wondered how Aeryn would be dealing with this the very human me has been a little teary, a lot scared and very grateful to be alive.
Ben has plying me with chocolate and has firmly established himself as a real life hero.
Chick with gun and black tee signing out for now somewhere in nyc…..
This a flashback post to September 2001. There was a Farscape Convention held in New York City that year the week after the Burbank one. On that fateful morning of September 11th, Ben and his family as well as Claudia Black were at their hotel in the city, all planning  travel to the United Kingdom.  Claudia posted later in the week on the Scifi Channel Farscape board (under her handle chickwithagun) that she was fine and Ben had brought her coffee and chocolate. This site posted a message from Ben that they were alright as well.  I misplaced discs containing many of my old posts and at times like these am very annoyed at myself!! I also didn't foresee still running this in 2016! Below is a classic photo from that con courtesy of CaScaper Sandy who attended.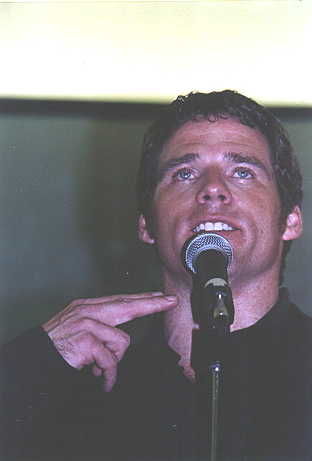 ---