Posted:
January 16th, 2017 |
Author:
ath389
|
Filed under:
News
|
Tags:
Bad Kids of Crestview Academy
,
Ben Browder
,
Farscape
,
SG1
|
1 Comment »
I am not much on reviews but I am going to attempt one of Bad Kids of Crestview Academy, the film Ben directed and reprises his role as janitor Max. Teen slash movies are not a favorite of mine (even when I was the target audience!). Ben had told me this would be different and have a bit more humor in it.  When you are a fan of someone you worry What if this is crap? each time a new venture is embarked on! The film is based on a graphic novel and there are some clever shots where a comic shot or panel is inserted and blends into the live action.  I enjoyed this  much more than I expected! The kids as Ben has said in interviews did a great job and the adults, especially Sean Astin, gave the movie some good moments. Ben fans get a treat with a brief ultra creepy scene that features Max , that was disturbing yet…."hot". The pacing ( I have no idea the real term!) kept the story moving . Often when you watch something you are not that keen on it will drag. I experienced none of that feeling. Another thing I enjoyed was the music.  The original music was quite good for a small budget film, not relying on just a few "hip" sounding songs thrown in.
The film is available for rent or purchase on Amazon and iTunes as well as dvd.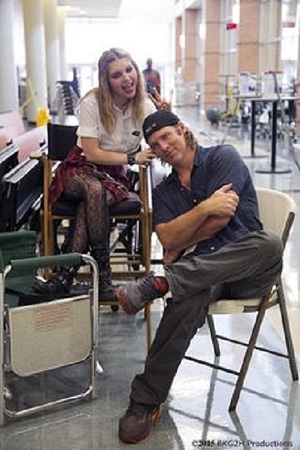 ---