Posted:
May 21st, 2013 |
Author:
ath389
|
Filed under:
News
|
Tags:
Ben Browder
,
Claudia Black
,
Dr Who
,
Farscape
,
Fed Con 2013
,
john crichton
,
SG1
|
3 Comments »
UPDATE : Same report with some awesome photos added courtesy of BrigitteD whom I met last summer in line for Ben's talk at the London Film and Comic Con. Please be courteous and credit her or link to this site in regards to the photos — enjoy !
Ok here goes! I am creating this con report based on the tweets I did during the panels.  As I said when I was tweeting  Ben was on fire both nights! It has been a week and I have had a chance to look back and see if my reaction was based on the excitement of the crowd or the fun our group was having! It was one of Ben's best on stage outings IMO. As I remember things or get feedback from others I will add them in a different color so you can find any updates easier . Here goes!
Thursday : Ben's first  stage appearance at Fedcon 2013 was with all of the other guests(except Colin Ferguson whose plane was late) at the opening ceremony on Thursday night. Actors were introduced by show so he , Claudia Black, and Gigi Edgley came out. Hell yeahs were done.
Friday : His next stage, or rather off stage appearance was  Friday night during Claudia Black's talk. Reviving  something he first did in 2001. She mentioned  that there was chemistry with Michael Shanks but not better than with Ben Browder. She said it was great when Ben joined SG1 as it is "always amazing to play with Ben Browder". Ben was up on the balcony — he called out that she looked beautiful. The fan had asked why they didn't do more scenes together on SG1(I think?) and she replied that they only got scenes when Daniel was dying. These were very emotional for Vala and after they finished the director asked for  one more take just for the pleasure of watching. The crowd errupted with applause!
Emcee Garrett Wang first watched Farscape three months ago and watched it straight through. He introduced Ben as playing one of the two characters he would ever cosplay — John Crichton.  Ben came out and they riffed a bit in German. It was funny that Garrett seemed to want to be part of the Farscape panels 😉  Ben asked the crowd if they got any sleep?  He said he was woken up at 0430  (mentions his room is next to John Barrowman's ) by some ritual that possibly involved a goat!  He went to the window and looked out (for Americans screens not used as much in Europe even at a 4 star hotel ) and saw Barrowman's head out the next window. Then he looked down and saw fans out partying—- said Dusseldorf rocks!  The stage had large cardboard cutout letters F E D C O N .  Ben rearranged them to spell D E F C O N . He said he was trying to spell something inappropriate but that was all he could come up with.  He commented how nicely Claudia had answered her questions and that he was likely to keep talking(he had brought a 1 L bottle of water out because he talks a long time!). Looks at the audience  and asks who is next anyway?  Crowd laughing shouts Barrowman! Evil grin.  He started "marking" the stage with water.  He then proceeded to talk on several topics including parenting style ( in response to comments Claudia had made).  The questions started. I was a bit startled at all the talks that many of the fans seemed more aggressive about getting answers than I was used to and as a side note long,rambling biographiphical non-questions apparently are international 😉  One woman (who also tore into Linda Park for her character's terrible German accent AND terrible Klingon accent!) asked Ben why Crichton wasn't Australian?Australia is a big country etc. Ben was gracious as he explained two main manned space programs are NASA and Russia. It was an American show and that was not the point. The woman argued, Ben tried humor  well we all know evil space aliens speak with a British accent — "I know I'm married to one!". Crowd laughed and was on Ben's side. He went on to explain the choice to film in Australia was economic — it still was one of the most expensive dramas airing at the time. He then goes off on a tangent on Claudia's video games and how he plays the one where she is bad all night….. alone. Next question is on the Continuum filming in the Arctic by a woman wearing Amanda Tapping's actual Arctic outfit. Ben informs us of this ( I think the woman is a volunteer and many of you may have seen her at US/CA SG cons).  Ben fans know to expect him to go off topic while answering a question and this woman knows so is enjoying Ben asking the crowd to let him know when Barrowman arrives. Meanwhile Claudia came out on stage and told Ben the staff was very nervous about all the water,wires etc on the stage and didn't want to interrupt his fabulousness! She talked to him like a mom explaining she will punish him. He got down on his knees . She said first he will lose his water. Then he will lose his stage time. He looked at the audience (still on his knees) and said now you see how it really was! Claudia departed and Ben returned to the Arctic filming question. The ice on which they were shooting moved 50 miles during filming. 40 degrees below and at that temperature Fahrenheit and Celsius become the same ….. COLD. He told about going to the bathroom at night and having to look for eyes because so dark all you could see of the polar bears were the eyes. It was hard to aim as well ….he needed Claudia or maybe Barrowman.  Meanwhile behind him Claudia had turned the "F" around so stage now says  D E C O N.  Ben continued saying during the long walk and talk on the ice the helicopter disappeared. For some reason they started giggling. Amanda Tapping wanted to do something special so they end up laying down on the Arctic snow and making snow angels! He ended the answer with a tease…I could tell you about sleeping in a box with RDA.  The next question was what is his favorite scene. He countered by asking the woman what HER favorite scene is. She answered the birth scene in PK Wars. Ben is surprised (as is most of the audience). He said "everyone loves a good birth scene!". At this point on Twitter I noted that Ben was on fire. Am I biased? Yes but I have seen him on stage many times and this rates as one of his best. He discussed how the actor is a wire delivering the product that many have worked on.  He called out a quote and asks which episode. NOTE: this is something that always startles me about the Farscape actors —- they truly interact and come across truly interested.  The next question involved  Dr. Who and Ben discusses Matt Smith crying. Ben was really impressed then the scene ends and he realized he had hurt him! This of course included a short riff on Claudia crying and dripping snot and being amazing 🙂 He moved on to Arrow and he mocked how  the Arrow shoots his bow. The last question was who is his favorite superhero. He said that it changes but today Superman …. and maybe tonight as well.  As he left the stage he reminds people to ask Barrowman what was going on!  Our group left to do our photo ops. When we all met up later at the bar we got the story from someone who had stayed for John Barrowman.  Apparently John Barrowman had Eve Myles and a couple of others in his room for a party and was dancing naked like one does, he went over to the window and stuck his head out and there was Browder!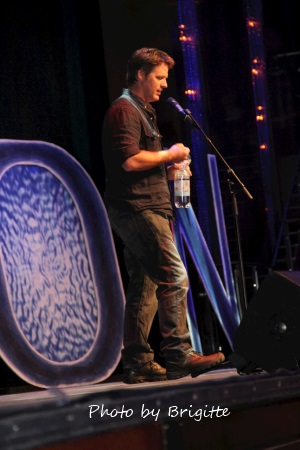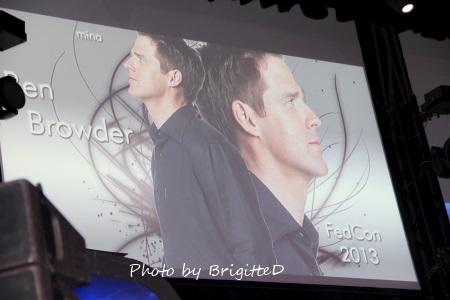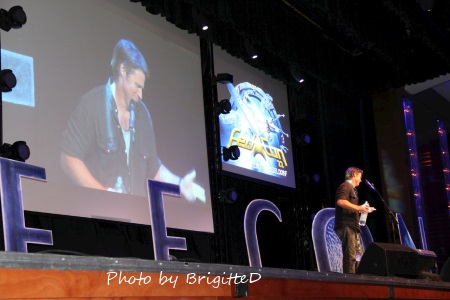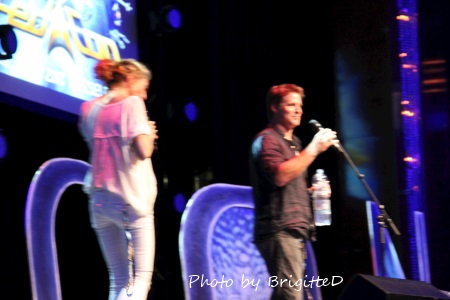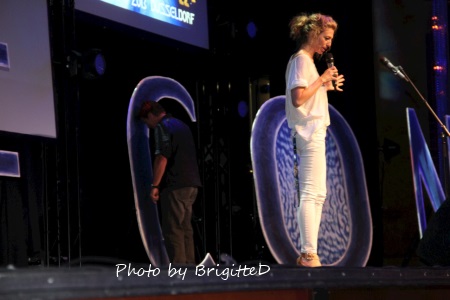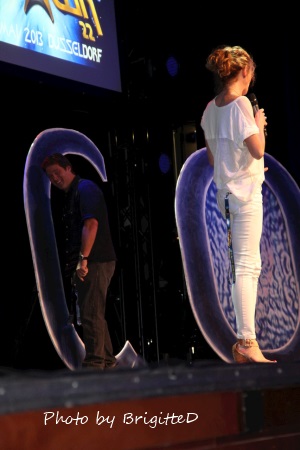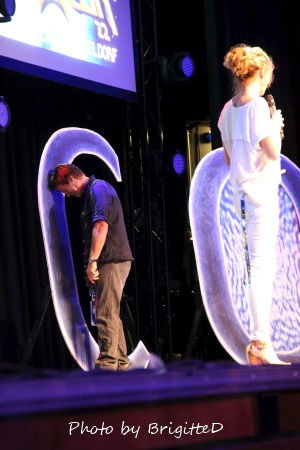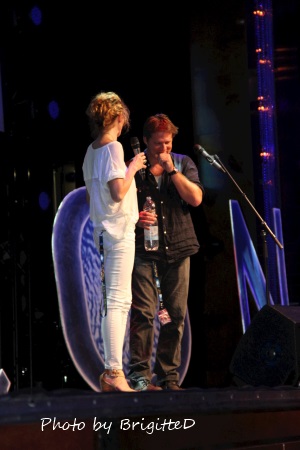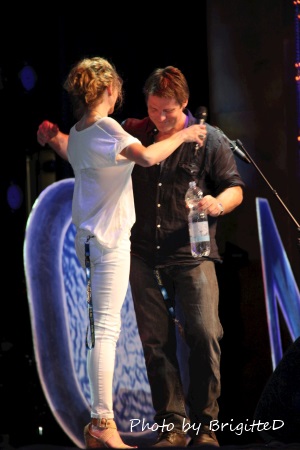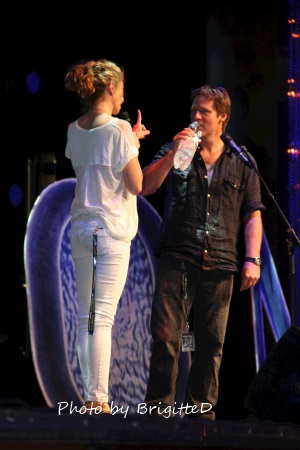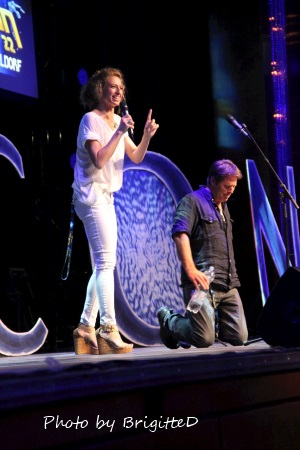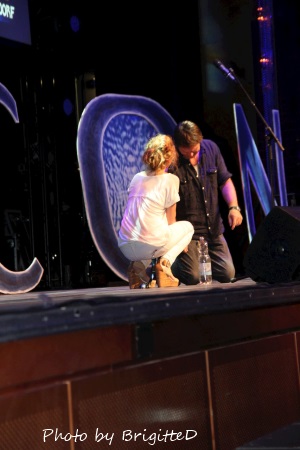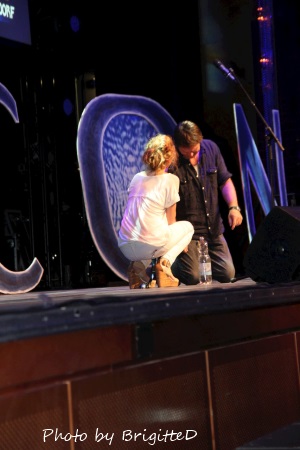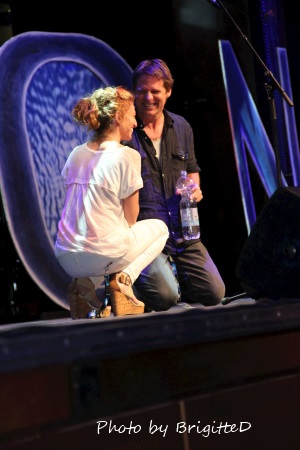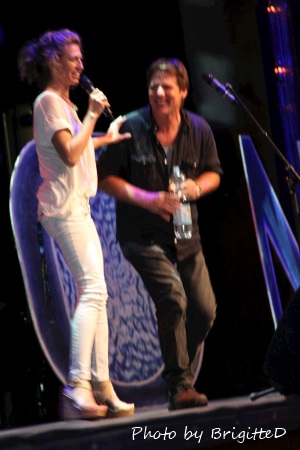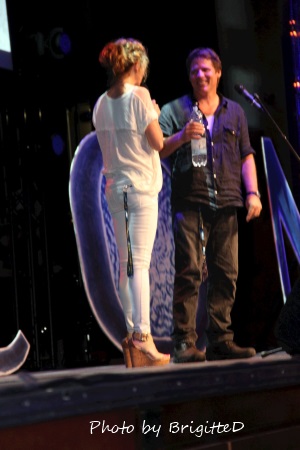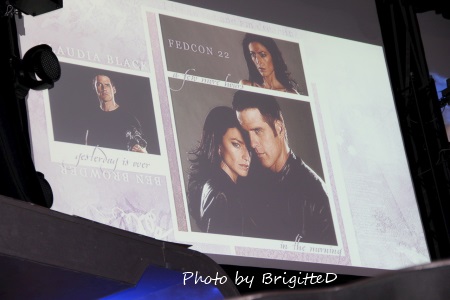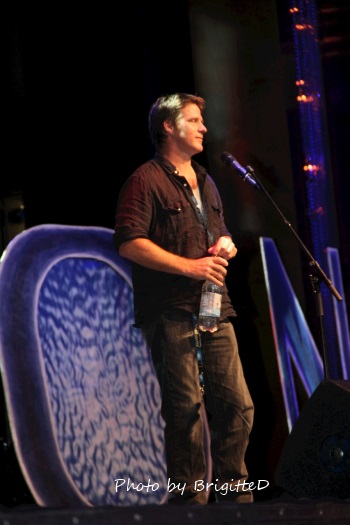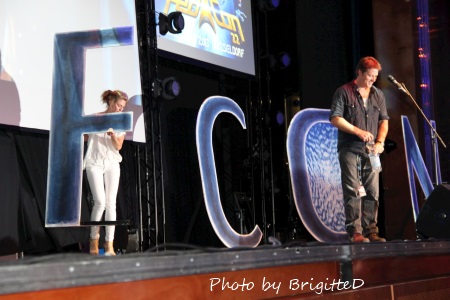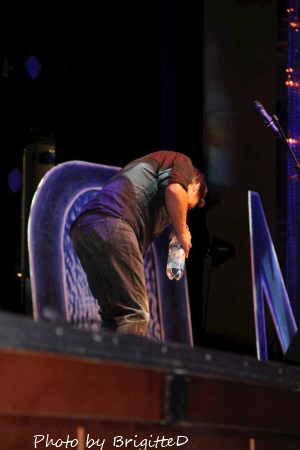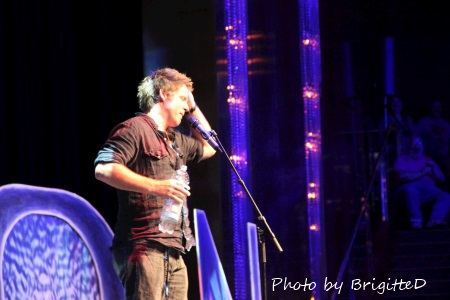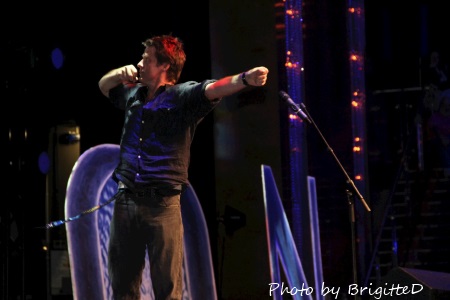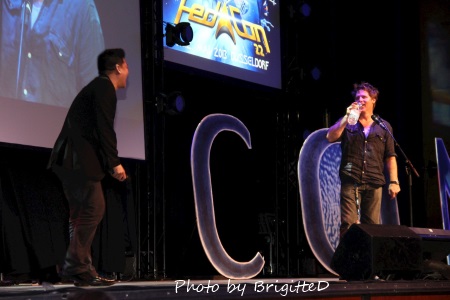 Saturday :  After an incredible costume show that never seemed to end we were ready for Ben and Claudia Black to take the stage!  Ben suddenly popped up at one of the question microphones in the middle of the floor. Garrett Wang was on stage talking and Ben asked him for a hug 😉  GW answered he can have whatever he wants! Ben wanted to feed the crowd (it was getting late–not even sure when they actually started). Ben started doing piroettes at the mic. He announced he is a secret furry. Garrett Wang said Ben was the first guest to start a panel from the middle of the crowd.  GW brought up the bunny suit and Ben told of doing a panel wearing it and how he found it liberating.  Claudia walked out and said to GW you said we won't start without you! Apparently Ben had said to GW watch Claudia's purse and disappeared while she was using the loo. Claudia summoned Ben to the stage calling him liebchen.  NOTE : The pair first posed and sat on the right side of the stage and talked a bit allowing fans plenty of chances for photos, then they got up  and " sashayed" to the opposite side(asking if sashayed translated,  sitting down and talking, ending up in the center.  Ben asked Claudia if she knows what a furry is.She replied she does. He said he is one and she discreetly slid away.  She brought up that she will protect him from John Barrowman.  They get a question on using guns on SG1.   They compared set safety differences between Farscape and SG1. The next question was about cooking/favorite meals. Claudia mentions one of her husband's favorite meal is Ben's bbq ribs. She has learned to make Keftades after visiting Santorini ( personal note when I returned from Santorini so did I!). Ben then looked at her slyly and said they both have the same favorite restaurant……. In-N-Out (hamburger chain out of southern California and MY favorite). Claudia responded Yessssssssssssss.  Ben pulled his phone out and had a text from his son asking if it is a good time to talk. Claudia said she will answer and took the phone.  They discussed how they decided to play John and Aeryn. The producers had toyed with the idea of having John be a bit of a Kirk.  Claudia knew her paycheck depended on Aeryn's relationship with Crichton who was the main character. Ben posed the question to the producers If you were standing next to this (gesturing at Claudia) would you be looking elsewhere?  The next question was about John Quioxte and Aeryn's lisp. Ben said that was all Claudia's idea. Claudia explained she only told Ben she had something she wanted to try. She didn't tell the producers either until the actual run through. Claudia delivered the "sheathe your sword" line with the printheth lisp. The crowd went wild and Ben cracked up.  The next question was about when the SG1 cast was on SGA .  They were getting a little punchy by this time and Ben apologized saying they were tired. He said the SG1 set was very relaxed and fun but the SGA set much more serious and their (SG1) humor wasn't appreciated.  The next fan complimented Claudia on her voice work in Dragon Age. Ben asked her which did she like better the naughty or nice. Woman answered "both".  Next question is to Ben asking if he improvised the pop culture references inFarscape.  Claudia started up in a sing-song voice "Ben always lies when he answers this question". Ben shot her a look. Claudia explained Ben's "tell" — he looks down at his shoes.   Ben started his answer that they were scripted………….Claudia in sotto voce "Ben always lies when he answers this question…". They were asked what they were working on. Ben replied going to see Iron Man 3. Claudia mentioned something in development. Ben then gave a very concise explanation of how development works. He ended by reminding people it took seven years to getFarscape on air. There was at some point a Pitch Black question for Claudia who talked about the shoot and the nickname the Australians gave Vin Diesel — "Vincenzo Gasolinni".  Something led to the comment that Stargate was a movie that became a TV show and Farscape a TV show that became a movie each week. The crowd errupted in applause. (NOTE : This is primarily a Trek/SG/SW con). Claudia looked down at a couple in the front row playing footsy and noted it to all of us. Ben replied "what happens at con stays at con". They exchanged a sly look, Ben took her hand they move to "sneak" of stage taking exaggerated mincing stealth steps.  Garrett Wang has the audience trained to make the Star Trek door opening noise when guest enter/exit so we made the noise. Meanwhile Ben's son has responded to Claudia's message on his Dad's phone. He asks How are you? Ben reminded Claudia he is 16. Claudia said yes and I first met him when he was wearing a diaper. Ben did a bit on his son "liking" one of Claudia's game characters and how that was wrong as she was "his". Eye roll from Claudia. Ben related a cute story of his work getting his son in trouble in kindergarten in Australia. He told the teacher his Dad was an astronaut and he had seen his rocketship.   Teacher ended up calling them in because his son was so adamant. Ben went in and said yea he was an astronaut. 🙂  They discuss crying on demand and Tayln John's death scene and the snot etc. Ben looked at her and said let's do it again! The crowd responded ! One of the last questions to both is name their favorite SG1 actor. Not Missing a beat Claudia responded Ben Browder and Ben responded Claudia Black. As the panel is ending there was a question about working with Russell Davies (?) and Ben responded he had a Tardis signed by Russell Davies and is going to get "something" signed by John Barrowman later.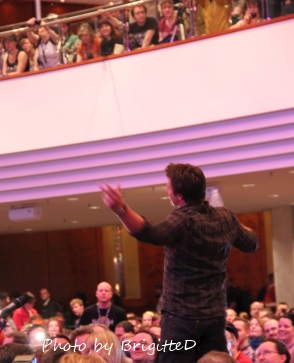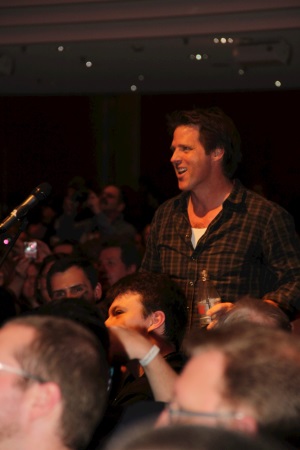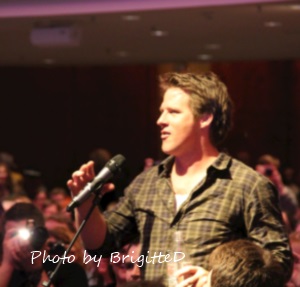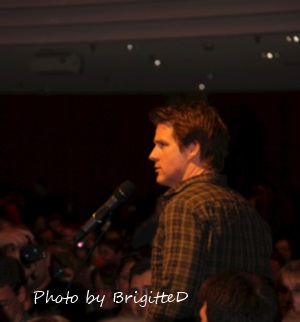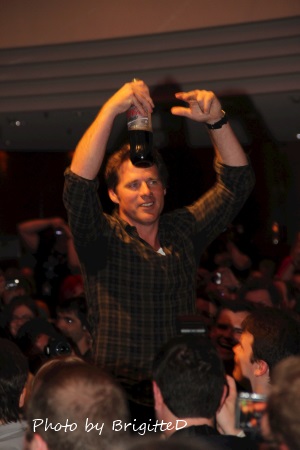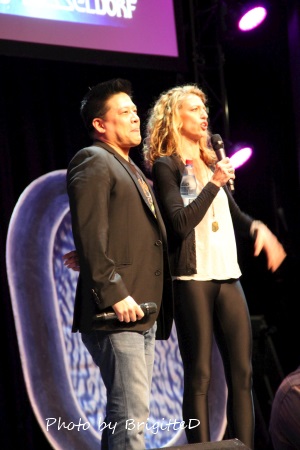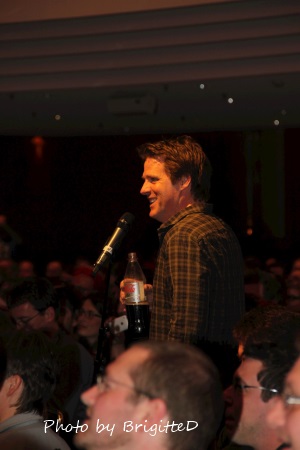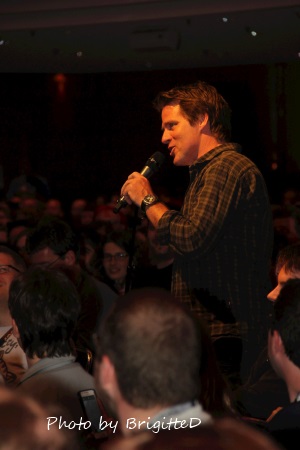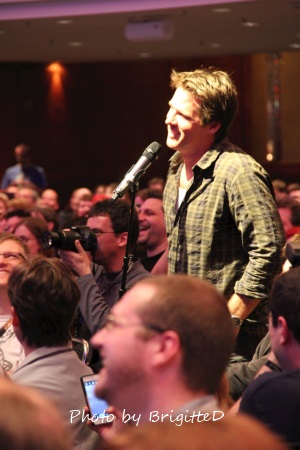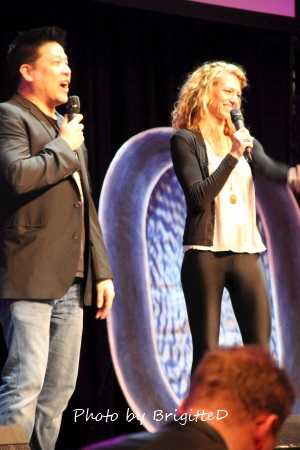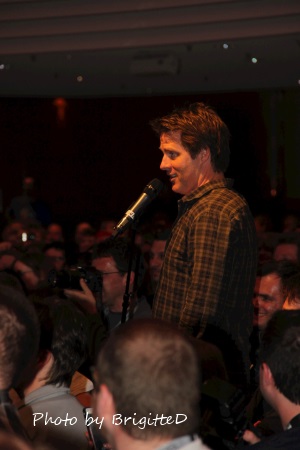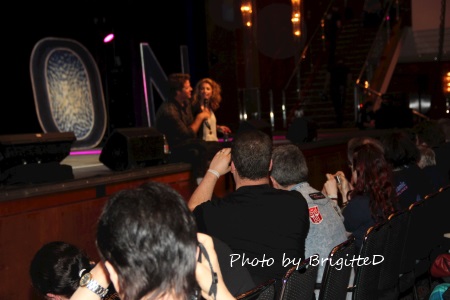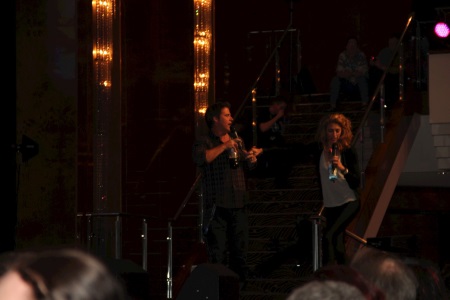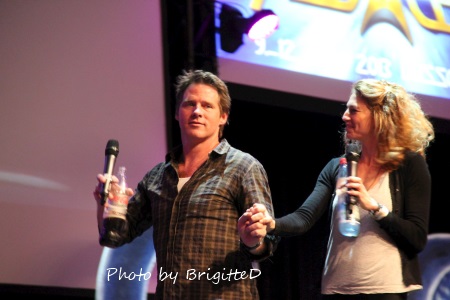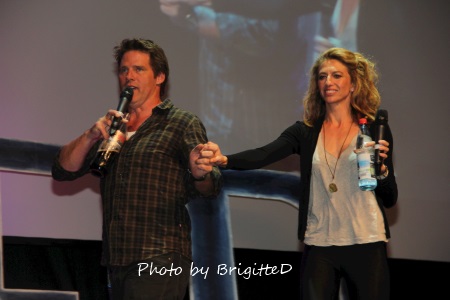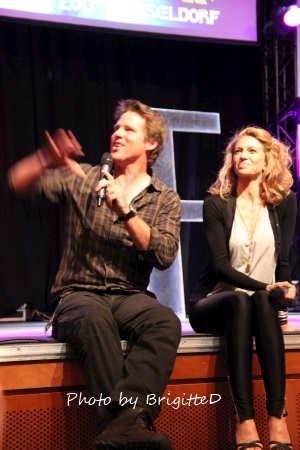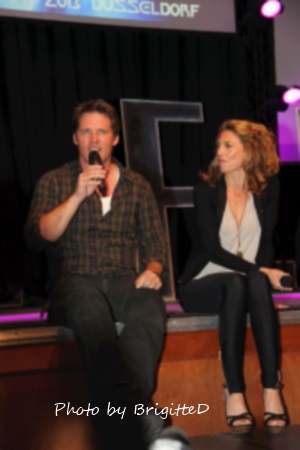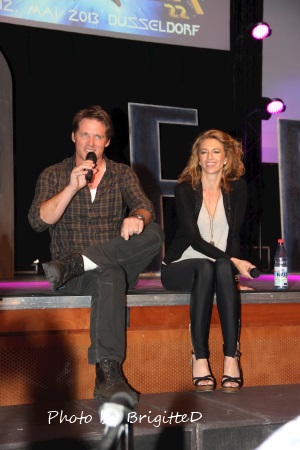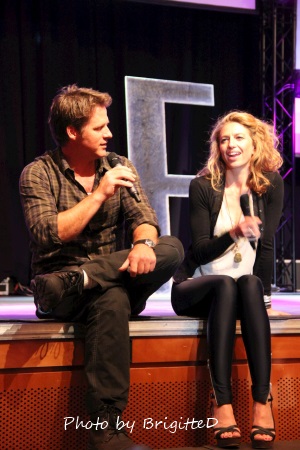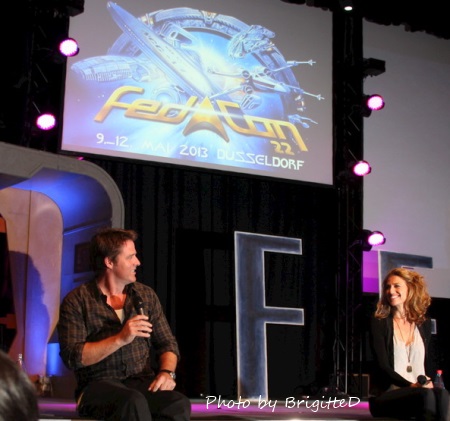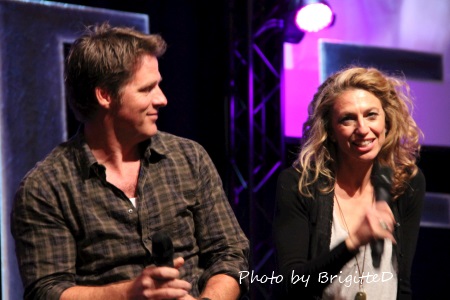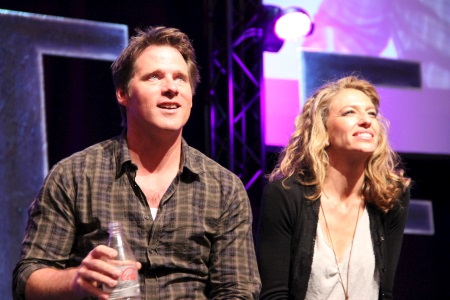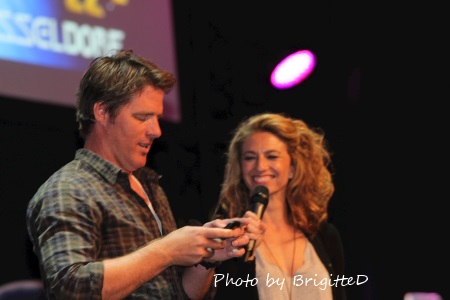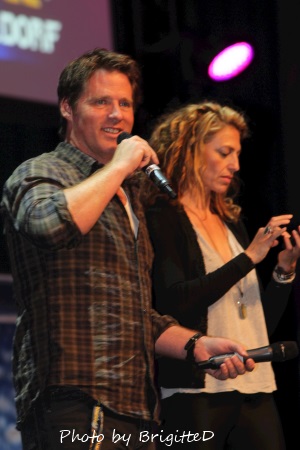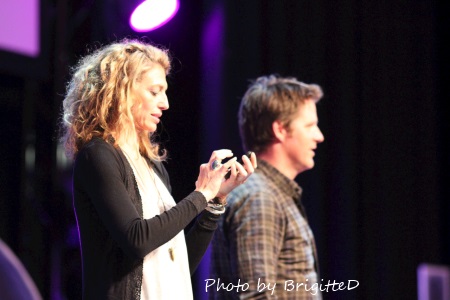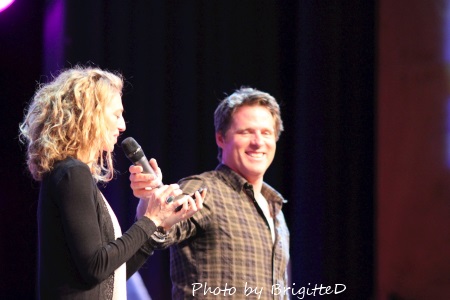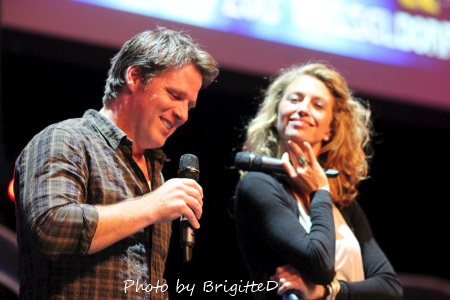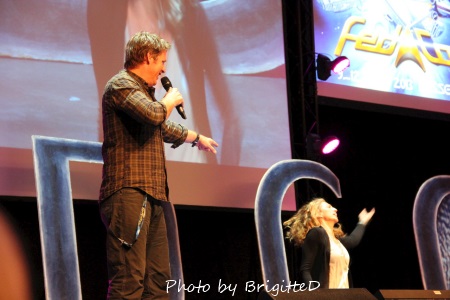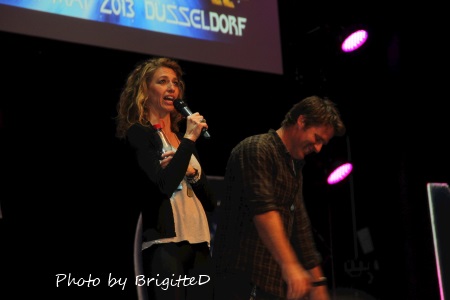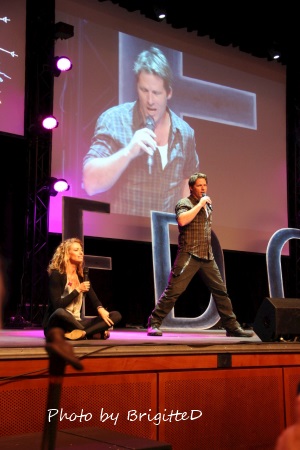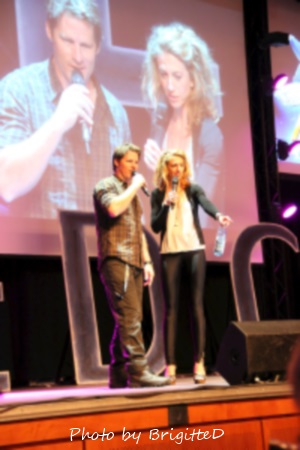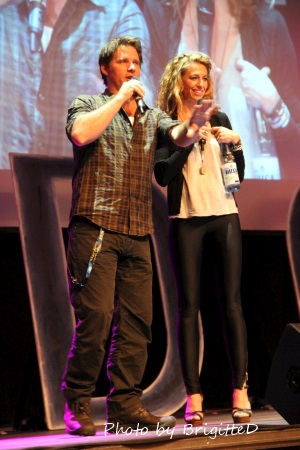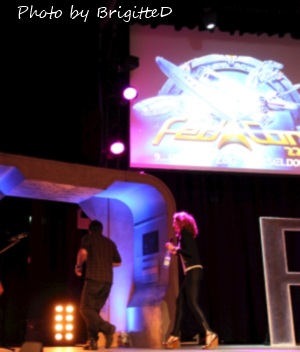 SSSSSSSSSSSSSSSSSSSSSHHHHHHHHHHHHHHHHHHHHHHHHHHHHHHHHHHHHHHHHHHHHHHHHHHHHHH
Sunday : What to say. As many of you know I do a charity fundraiser for Ben's birthday each year and I usually auction some signed things. I prefer to obtain those signatures as a regular fan. So Sunday was autograph day. We walk in the hotel's atrium concourse to see a table with a huge line and Ben Browder signing instead of in the auditorium. Our group went and got out other autographs.  Later was the closing ceremony where once again they bring out all the guests to say something and pose for a last group photo. Gigi Edgley had to leave early so she spoke before the farewll started. Alot of very nice sentiments — I especially like Colin Ferguson's—acting used to all be on stage with instant feedback then came movies and TV so coming to a con completes the process for TV/film actors. Farscape is next to last and when I remember what was said I will post it because what happened next is all I remember. Torchwood is called and Eve Myles and John Barrowman comes out they thank everyone and next Ben is kissing Barrowman. They take it up notch and the rest is Fedcon history.
---