Posted:
September 18th, 2012 |
Author:
ath389
|
Filed under:
News
|
Tags:
Ben Browder
,
Breast cancer research
,
Dr Who
,
Farscape
,
GeekFury
,
john crichton
,
sfx
,
SG1
|
2 Comments »
Ratings and more review ……
 Don't forget to check out the birthday fundraiser page! I will be auctioning this picture starting October 1 !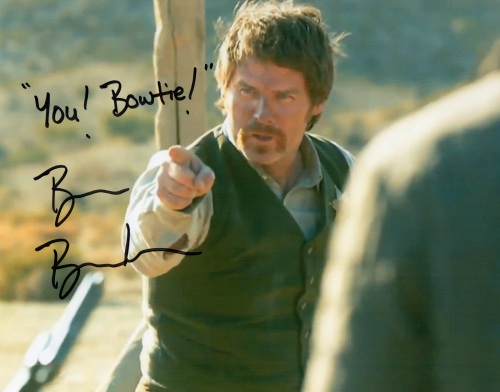 The ratings are in. No "bump" for Dr. Who episode three,  in fact the ratings have dropped incrementally since the record breaking season premiere. The first three episodes had ratings of 1.5 mil, 1.1 mil, 958K  respectively. These reflect BBCA cable viewings ONLY. It is important to note that BBCA is available in approximately 70% of the US cable households versus 87% for other cable channels.  These are "raw" numbers for viewers 18 – 49 which often final slightly higher. Other streaming / purchase viewers may or may not be studied by the network though in my opinion should be as I purchase this specific show from Amazon! This data was provided by Media Savant whom many of you oldtime Farscape fans remember from the Dom.
Having rewatched again (like many of you!) I am going to give my thoughts on Ben's performance. I have stated many times before that when I first was drawn to Ben's acting I was almost afraid to watch his earlier work for fear that it was Crichton more than Ben Browder the actor I was drawn to. (yes that was a deplorable sentence but…) Then I worked my way through his filmography. I was not disappointed just mystified as to why I had not seen more of him!  He is in a competitive age group overloaded with talent in a career where less than 5% are working at any given time.  All that aside I was excited for the Dr. Who appearance yet my cynical side lives in fear of disappointment ! Having done this site and followed Ben for 12 years,  the fact that Ben himself seemed excited was comforting. I wasn't disappointed. Whovians seemed to have no issues with his visit to their world and I have only seen a couple of negative remarks about cheesiness.  I hate when guest characters are two dimensional and felt that although these characters have all been seen before in drama, they — especially Isaac— resonated with me as the people of A Town Called Mercy.
Check out this behind the scenes video from SFX
---